Umbraco integration services
Custom Umbraco integration services from Influential Software.
Connect your website to any system with our CMS integration solutions.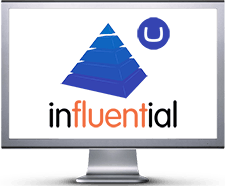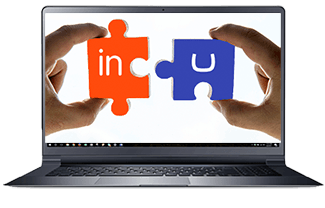 Unify your business with Umbraco integration
If you want to build targeted campaigns, add useful third-party functions, boost engagement with social media, and allow customers to buy online, then you'll benefit from our Umbraco integration services.
From back-end integration through to email, marketing, and e-commerce, our Umbraco developers will create secure, real-time connectivity with your CMS.
Enterprise Umbraco integration services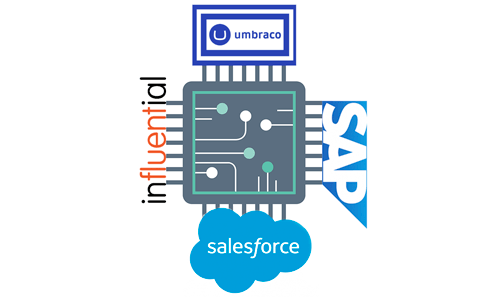 ✓ Back-office: Umbraco SalesForce integration
Integrate Umbraco with your essential office systems, and make sure information gleaned online reaches the people who need it.
Use our back-office integration services for:
Umbraco Salesforce integration

Umbraco social media integration with LinkedIn, Facebook, and Twitter

Active Directory integration for Intranet applications

Microsoft Dynamics CRM integration

SAP integration

Umbraco SharePoint integration

Magento integration
✓ Marketing: Umbraco Mailchimp integration
Integrate all your marketing solutions with your Umbraco website and content management system. Keep your marketing targeted and updated with the latest information.
Use our Umbraco marketing integration services for:
linking tools such as MailChimp, Hubspot, Pardot, Eloqua, and Marketo

marketing strategies and campaigns based on Umbraco site data

connection of analytical software, call and user tracking, custom forms, and email subscription services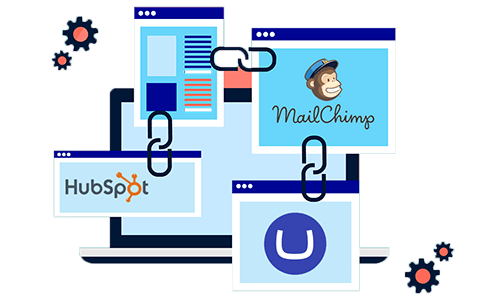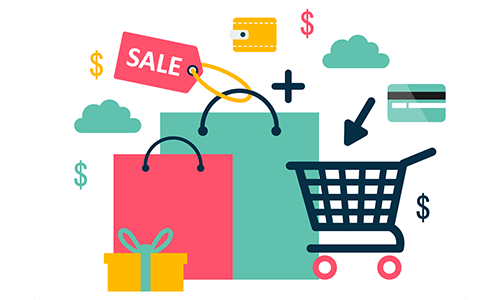 ✓ E-commerce: Umbraco PayPal integration
Integrate all kinds of online payment methods with your Umbraco site. Encourage customers to buy with fast, simple, and secure payments.
Use our Umbraco e-commerce integration services for:
linking a site to your preferred payment method

most popular connections include Sage Pay, PayPal, and Amazon Pay

let customers buy products, services, and subscriptions on your site
✓ Automatic updates: custom Umbraco integration
If the system has its own API, we can connect it to Umbraco. Send any form of data between Umbraco and your systems.
Use our Umbraco custom integration services for:
connect systems such as course catalogues and product catalogues

automatically update the products and services for purchase on your site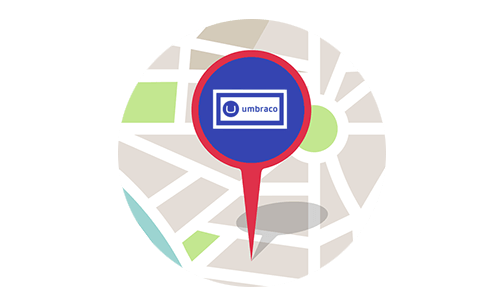 ✓ Maps & video: Umbraco visual integration
Integrate third-party visuals into your site's pages. Add useful elements and customise them to suit your design.
Use our Umbraco visual integration services to incorporate:
Google APIs – Maps, Places, Books, Directions, and more

photo updates and live video streams

Yahoo! APIs – Maps, Flickr, PlaceFinder, and more
Looking for integration support?

Influential Software CMS Integration Services
At Influential Software, we believe in going the extra mile. That's how we've managed to build and keep relationships with some of the UK's best-known companies and public sector bodies.
Starting as a small outfit in 1993, Influential Software is now home to over 80 UK staff. We continue to attract top technical talent in software development, business intelligence, integration, and licensing.
With over 25 years of success across multiple industries, our CMS developers and consultants bring their unique experience to every project.
Organisations of all sizes and sectors trust in our CMS development expertise.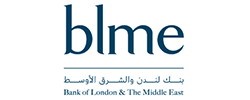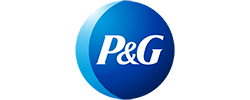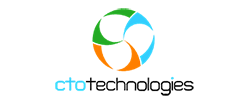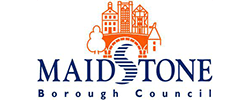 Get a callback from our CMS team
Fill out the form to get a quote, book a demo, or tell us your needs.
A member of our CMS team will contact you within one working day.